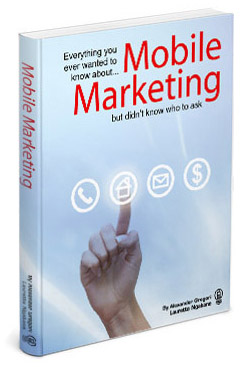 Dear Colleague
Thank you for visiting.

You are probably a busy professional, so we will not waste your time with a lengthy "sales letter" but get right to the point.
"We" are Alexander Gregori and Lauretta Ngakane, the authors of this book. We are Mobile Marketing Winner$ team leaders and internationally published authors and -speakers on mobile marketing and we personally guarantee that we will refund the US$ 9.99 that you will pay for this book within 60 days if you are not 100% satisfied that our book is worth what you paid for it.

The book will help you fully understand mobile marketing from A - Z and teach you how to create your own successful, dynamic mobile marketing campaign. Simply put, it will help you turn the cell phones of your customers into SELL phones for your products and services!
"The authors manage to demystify a lot of the technical jargon – it is written in an 'easy-to-read' style."
Philip van Tonder, Director SABC Mobile

"The 'One Minute Manager' for mobile marketers."
Sean Pashley, CEO Starfish Mobile

"This book is a great place for marketers to start their education."
Andy Favell, Editor mobiThinking

So, if you are a novice wanting to get into mobile marketing without burning money by "trial and error", are already in mobile marketing and want to learn how to increase your ROI, or you are simply interested in the "How" and not the "Wow" of mobile marketing, then this book is for you.
The over
280 PAGE
book covers in
SIX PARTS:
1. How you can get into mobile marketing and why you should do it now
2. How to create an interactive mobile base camp and build Quality Leads™


3. How to drive traffic to your mobile base camp, interact with your customers and measure the impact of
your mobile marketing campaigns
4. How to make money with your mobile base camp and optimize your marketing budget

5. How to avoid legal pitfalls

6. How to stay ahead of your competition



We
also included
FOUR BONUS CHAPTERS
, packed with these
EXCITING
resources:
1. A Mobile Marketing Service Provider Resource Kit

2. A Mobile Marketing Customer Education Kit

3. A Mobile Marketing Campaign Checklist

4. Essential Mobile Marketing Statistics
And a DETAILED GLOSSARY of mobile marketing terms!
PLUS if you order NOW we will also throw in 3 Special FREE Reports on:
* Mobile in Retail
GS1 MobiCom's 34 page White Paper that reveals how mobile will revolutionize retail

* Internet Trends
Morgan Stanley's 87 page special report on how the mobile internet will take over, AND

* Marketing Your Small Business On The Mobile Web
mobiThinking's 12 page exclusive guide to low-cost, high-impact marketing to millions of
mobile phones users
_____________________________________________________________________________________
* The download file for the Mobile Marketing Winner$ e-book "Everything you ever wanted to know
about Mobile Marketing but didn't know who to ask" comes in a PDF format
* You will receive the download links to the handbook and the 3 special reports immediately after your
payment has been processed
* System requiremens are simply Adobe Acrobat Reader for either PC or MAC.
Download Acrobat Reader NOW!

* Secure payments with ClickBank

_____________________________________________________________________________
LIMITED SPECIAL ONLY US$ 9.99!