WATCH OUR INFO VIDEO
AND ORDER YOUR CUSTOMIZED MOBISITE ONLINE
TODAY!
_______________________________________________________________________________________________________________________
Order Your Custom

Made Mobile Website

Online Today!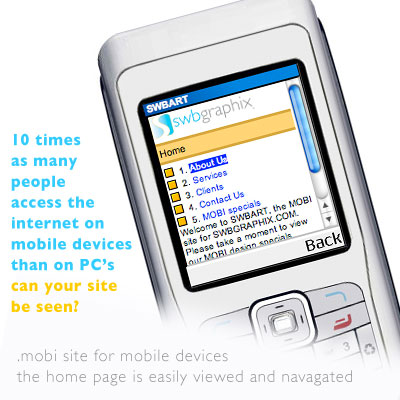 Dear Colleague
Thank you for visiting.

You are probably a busy professional, so we will not waste your time with a lengthy "sales letter" but get right to the point.
"We" are Alexander Gregori and Lauretta Ngakane, internationally published authors and -speakers on mobile marketing and team leaders at Mobile Marketing Winner$, a group of world class marketers, software and design professionals. We personally guarantee that we will refund the
US$ 999
US$ 499 that you will pay for your custom made mobisite within 60 days if you are not 100% satisfied that it is worth what you paid for it.
With the Mobile Marketing Winner$ Mobisite Starter Kit YOU can:

* Reduce your marketing & advertising expenses
* Increase your profits
* Exactly measure the impact of your mobile marketing campaigns
* Generate new Qualiy Leads™ for your business
* Drive foot traffic into your store
* Communicate directly with people who want to buy from you (for instant help to make this easier for you please also
view our SMS Starter Kit)
* Stay ahead of your competition
"Our mobisite http://diskidance.mobi was up in no time
although we only had one week to go before the start of the 2010 FIFA World Cup."
Gill Scott, Owner My African Sky
"My mobisite http://gr8smile.mobi revolutionized the way I communicate with my patients."
Dr Nkhumeleni, BDS.MDS.MDent
"Mobile Marketing Winner$ are experts, producing great results and offering good value."
Jason Frichol, Chief Brand Activist Fore Good Group (Canderel)

Your Mobisite Starter Kit includes:

1. Your own
MOBISITE
including a Home Page and 5 additional pages (About Us, Products/Services, Specials,
Update Me, Tell a Friend)
2. Your own http://yourname.param.mobi
DOMAIN
3. Your own 2GB
WEB HOSTING
4. Your own 10GB
TRAFFIC BANDWIDTH
5. Your own
LEAD GENERATOR
6. Your own
VIRAL MARKETING
tool
7. Your own Quick Start Mobile
MARKETING GUIDE
8. Your own Mobile Marketing Winner$
EMAIL SUPPORT
How to order:
Watch a quick video on how to order:

Once you click the "Buy Now" link, you are taken to a form page where you fill in your details and the information that you want included in your mobisite. The order form allows you to include information for:

1. Your choice of Domain Name
2. Your choice of "About Us" information
3. Your choice of "Products/Services"
4. Your choice of "Specials" that you might offer

In addition we add your very own Lead Generation page. Everytime a visitor to your mobisite fills out your "Update Me" form you automatically receive an email with that person's contact information in the inbox of the email address that you provided in your order form.

AND we add your "Tell a Friend" page that will really get your viral marketing on fire!

Once you filled out the order form and click "Submit" you are taken to a secure PayPal payment page.

Immediately after your payment has been processed successfully you will be re-directed to a page with the links to your very own copy of the Quick Start Mobile Marketing Guide.

Your mobisite will be up and running 5 working days later (Mon - Fri). It's THAT easy!
- No technical knowledge required
- Nothing to download or install
- Guaranteed to work on any mobile phone

Simply fill out the order form
and we do the rest

PLUS if you order NOW we also throw in 3 Special FREE Reports on:

* Mobile in Retail
GS1 MobiCom's 34 page White Paper that reveals how mobile will revolutionize retail

* Internet Trends
Morgan Stanley's 87 page special report on how the mobile internet will take over, AND

* Marketing Your Small Business On The Mobile Web
mobiThinking's 12 page exclusive guide to low-cost, high-impact marketing to millions of mobile phones users
___________________________________________________________________________________________________

Limited Offer ONLY US$ 999 US$ 499!